What On Earth Am I Here For?

Church-wide Book Study
Starting October 7th , our church will be reading and studying as a community Rick Warren's best selling book What On Earth Am I Here For?  
And we'd love for you to join with us! 
On your journey, you'll find the answers to
three of life's most important questions:
> The Question of Existence: Why am I alive?
> The Question of Significance: Does my life matter?
> The Question of Purpose: What on earth am I here for?
Far more than just a book; it is a guide to a spiritual journey.
Once you take this journey, you'll never be the same again.
 
You're invited to engage together at three levels:
Daily Reading
Read one short chapter per day (7-8 pages) from the book, What on Earth Am I Here For? by Rick Warren, Pastor of Saddleback Church in California The book was originally entitled, The Purpose Driven Live, and is now the best-selling book of all time, next to the Bible. We will all literally be on the "same page" for 42 days of daily reading. 
Small Groups – with a Video and Discussion
Sign up to join one of our many small groups that meet throughout the week – both day and evening options. Some groups meet on Wednesday nights at church after sharing supper together. And other groups meet at church on other days and some in homes. Even the youth and children will be discussing these themes in Sunday School.



Or call Debbie Watson at (610) 664-4880 for more information about small groups.
You can also sign up in the chapel to indicate your desire to participate in a group, or your willingness to host one, either at your home or at church.
Sunday Worship Services - 9:00 a.m. and 10:45 a.m.
Sermons and testimonies will help tie together the readings and small group experiences.
What On Earth Am I Here For?  Schedule:
October 7 – Kickoff – What On Earth Am I Here For?
October 14 – Worship – You Were Planned For God's Pleasure.
October 21 – Community – You Were Formed For God's Family.
October 28 – Discipleship – You Were Created To Become Like Christ.
November 4 – Service – You Were Shaped For Serving God.
November 11 – Outreach – You Were Made For A Mission
November 18 – Celebration Sunday – What's Next?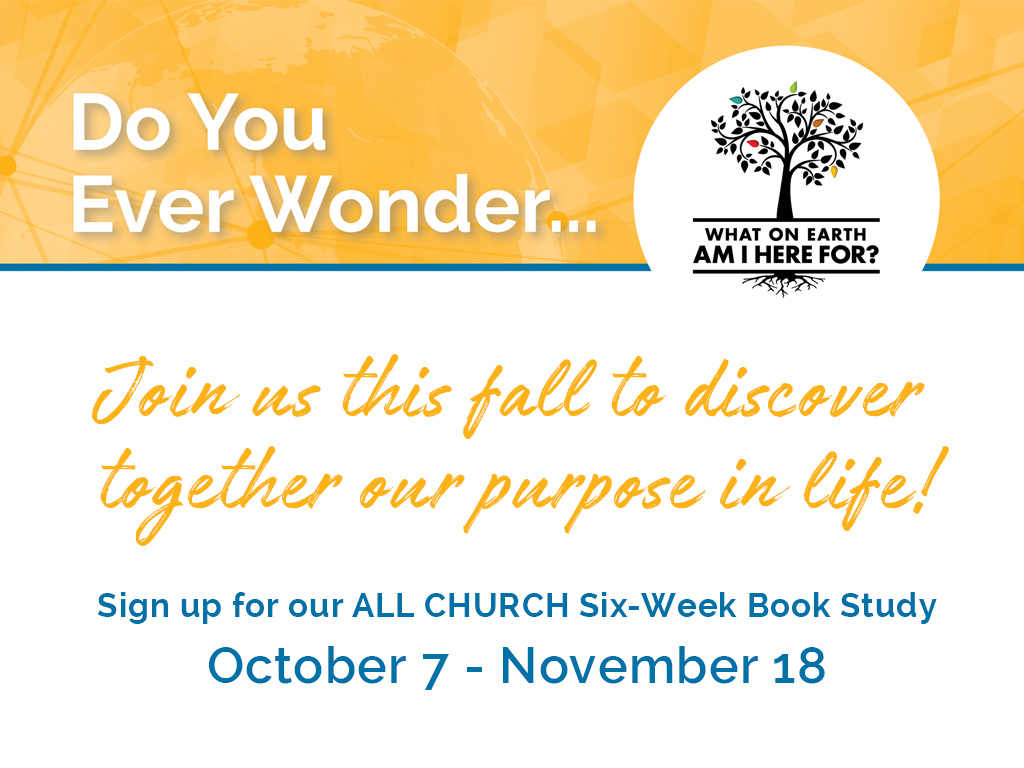 Share with your friends