Resuming In-Person Worship Oct. 18th
Narberth Presbyterian Church is looking forward to resuming in-person worship services in the church sanctuary, on Sunday, October 18 if the way remains clear and the Lord continues to lead accordingly.
 

What to Expect for Sunday Worship Services at NPC
1.    Our vibrant online worship services will continue on Sunday mornings.

2.    On October 18th, both in-person Sunday worship services and live streaming will begin.

3.    Initially, we will start with a single service at 9:30 am which will be limited to 60 minutes.

4.    Worship capacity in the Sanctuary and Balcony will generally not exceed 90 for a single service; the Chapel will be used for overflow, as needed.

5.    Initially, there will be no separate worship program for children or youth; families will be seated and remain together during worship.

6.    Congregants are required to pre-register and pass through a brief health screening and check-in process before entering our facilities.

7.    Social distancing and mask wearing are required at all times on church property, with families allowed to sit together.

8.    Our volunteers--greeters, health screeners, and ushers—will ensure your health and safety by observing our strict social distancing and mask wearing protocols and checking you in through a brief screening process.

9.    For more details on NPC's safety protocols and what to expect for Sunday Worship services, please refer to the attached document "Frequently Asked Questions about Resuming In-Person Worship at NPC, Fall 2020."
 
Throughout our research, discussions and plans for resuming worship together as a church family, our highest priority in decision making has been the safety and well-being of our congregation.  We have also said frequently that no one should feel any pressure to return, especially when health concerns are apparent.  At the same time, we also realize that many of you have been interested in resuming in-person worship for several weeks.  It seems clear to everyone that public opinions on pandemic health safety vary widely. 
We welcome suggestions and feedback that can be directed to Tim Roykouff, Business Administrator, troykouff@narberthpres.org.  

Thank you in advance for your participation in the life of our church.
 
God bless you all,
The NPC Safety and Security Team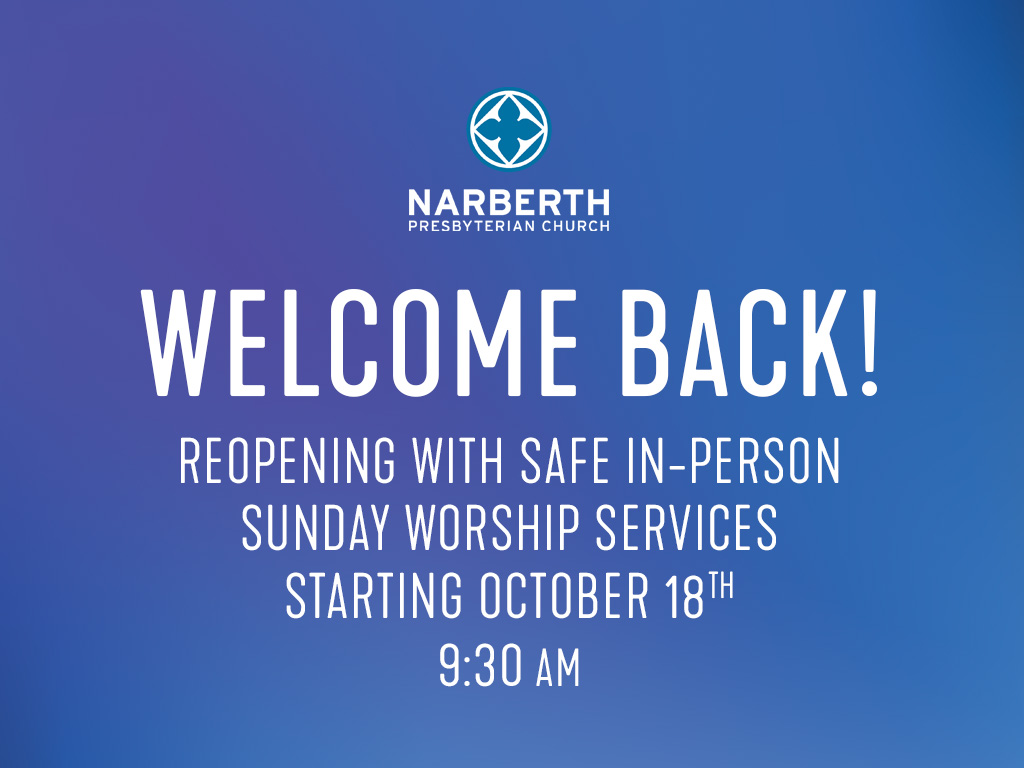 Share with your friends